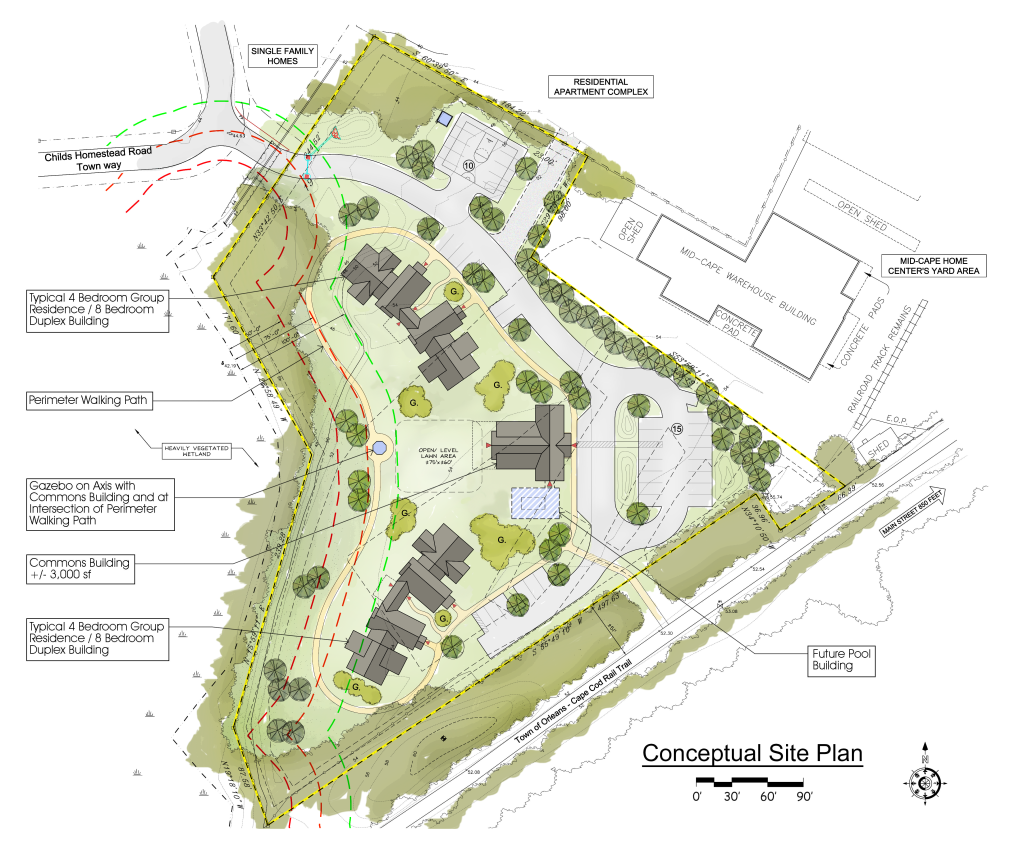 "If a man does not keep pace with his companions, perhaps it is because he hears a different drummer. Let him step to the music which he hears, however measured or far away" Henry David Thoreau

Cape Cod Village will be built on a four acre parcel of land that is bordered by affordable housing, condominiums and retail businesses. Within walking distance of the town center, the property also abuts the Cape Cod Rail Trail for bike riding and walking. Located on the site will be housing for 15 adults with autism and a Community Resource Center.
The Community Resource Center will enrich the lives of our residents as well as those with autism and intellectual and developmental disabilities in the greater community. The Center will offer educational and social activities for both the residents and their families and will provide space for support groups, workshops and speaker programs, in addition to recreational activities for the residents and the community at large.  It will also serve as an information clearing house and referral service (Family Resource Center) for the community, including local school staff, police, fire officials and social service agencies and for families with autistic children who are seeking information to help their children and themselves. An online library will serve as a resource for staff, professionals and the extended Cape Cod autism community.
The village has been thoughtfully designed to meet the unique needs of its residents. The design of both the interior and exterior spaces will consider the sensory issues experienced by those on the autism spectrum. Our intention is to create "green" buildings that are environmentally friendly and energy efficient. Our vision includes front porches, a central courtyard with a gazebo, a vegetable garden tended by the residents and community members, walking paths, areas for barbecuing and recreational activities as well as a swimming pool.
Inspired by the concepts of intentional communities, "a planned residential community designed from the start to have a high degree of social cohesion and teamwork," and pocket neighborhoods, "clustered groups of neighboring houses gathered around a shared open space – a garden courtyard, a series of joined backyards – all of which have a clear sense of territory and shared stewardship," CCV's design will emulate Cape Cod and New England architecture.